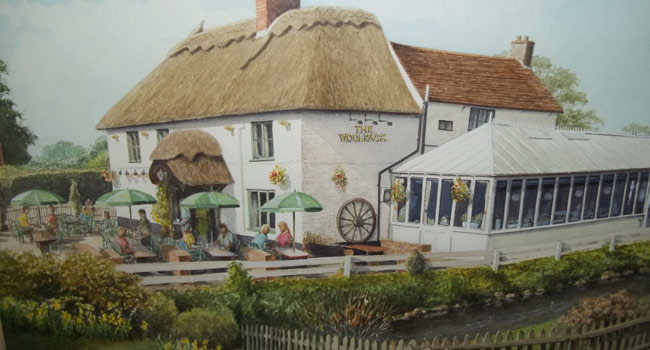 The Woolpack offers the welcoming atmosphere of a local pub, delicious home-made food and a friendly service.
Owners Teela and Dee Liberty-Spark are keen to deliver quality meals to feast on. Fresh home cooked seasonal meals are whats cooking in the kitchen everyday.  They are hard at work sourcing the right quality local suppliers where possible and talking to customers about the meals being offered on the menu.
Background
The Woolpack is a 17th Century building situated between Ringwood and Christchurch in the quiet village of Sopley, about five miles from the famous Ringwood Brewery. It was originally a private house, and became an inn in 1725. The conservatory dining area was originally built in 1988; then later extended.
The name probably originated because the vicar, the Rev. James Willis, was a keen sheep farmer and took a major part in distributing his Merino sheep, of which he had over a thousand throughout the district. These are a small, short-woolled breed, prized for their fine wool.
Sopley was a centre of smuggling. The smugglers boats were heaved up from the River Avon to the Woolpack, where pack horses were waiting to take the goods to the New Forest and onward to Winchester and London.
Sopley is now the focus of a large conservation area with it's surrounding meadows and flood plains designated as a site of Special Scientific Interest.